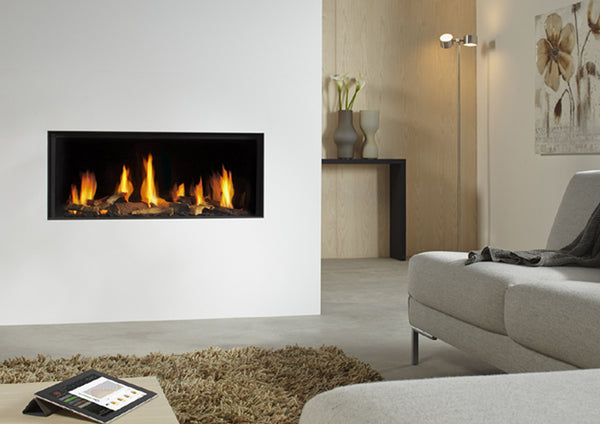 Blazes Fire Surrounds
Dru Metro 100XT
The Dru Metro 100XT is an extra tall version of the popular Metro frameless gas fire. The added height of this impressive balanced flue gas fire allows for larger, more rustic logs and higher, more realistic flames.
The Metro 100XT was the first fire in the DRU Metro range to include the exclusive DRU Slim Line II system. This means that the fire is completely frameless, with an uninterrupted view of its beautiful fire display.
It has a unique burner, which spreads the fire in a zig-zag pattern across the entire width and depth of the fire bed, while the extra tall glass window provides a much higher flame picture than that of ordinary gas fires.
The interior offers a choice of a smooth black finish, throwing the flame picture into sharp relief, a Ceraglassm, mirrored finish or glass anthracite, which adds visual depth to the flame picture. The Carrara stones are also available as an optional fire bed and the fire is operated by electronic remote control.