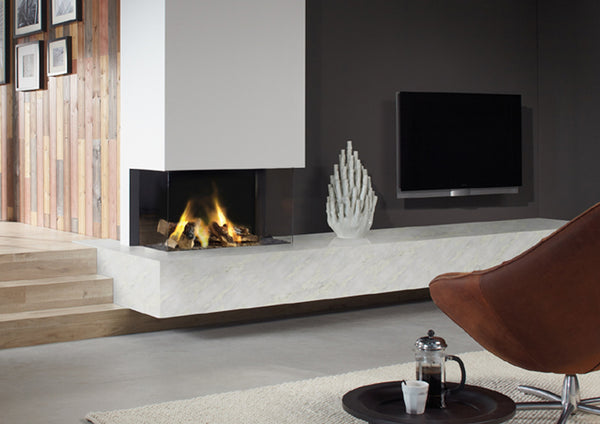 Blazes Fire Surrounds
Dru Lugo 70/3 Three Sided
The DRU Lugo 70 and 80 gas fires are available as two-sided corner or three-sided panoramic models, so the impressive log fire displays can be viewed from many different angles in the living room.
Lugo fires have a beautiful sleek finish. No ventilation openings are visible within the frames and the glass window connects directly to the plinth for a smooth and modern appearance. Interior finishes include matt black, ribbed cast iron or mirrored Ceraglass for an almost infinite flame picture.
Lugo gas fires are enhanced by the use of DRU bespoke false chimneybreasts and floating hearths in a selection of colour finishes to suit any kind of décor. The complete installation of a 2 or 3 sided gas fire into these features results in a really classy finish.
Lugo is one of the first DRU fires to feature its new Eco Wave burner technology. This allows the user to adjust the height of the flames by up to 15 different settings using a tablet app. This means that you can select the individual flame picture that suits you, whilst at the same time saving up to 50% in daily gas consumption.
The special app is available for ipad or Android tablets and has a number of other special features. It constantly monitors the performance of the fire and alerts the user to any servicing or maintenance requirements. It can even be programmed to link this information to an approved DRU dealer.
---